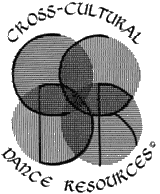 Established in 1981, Cross-Cultural Dance Resources, Inc.




celebrates its 42nd anniversary in 2023.
2021 Events
SOUP SEMINAR SUNDAYS
​
Adair Landborn, August 8, 2021 - 1:30-3:00 pm PDT
Andrea Seidel, April 25, 2021 - 1:30-3:00 pm PDT
https://www.youtube.com/watch?v=6WRRxr0wTg4
​
Nancy Ruyter, February 21, 2021 - 3:00-4:30 pm MST
2020 Events
SOUP SEMINAR SUNDAYS
​
Rulan Tangen, December 6, 2020 - 12:00-1:30 pm MST
​
Janet Reineck, October 11, 2020 - 12:00-1:30 pm MST
​
2018 Events
Cross-Cultural Dance Resources Soup Seminar, "Dancing Continuities of the Roms (Gypsies) in Skopje, Macedonia: Documentary Film and Discussion"
​
Presenter: UCLA Professor Emerita, Elsie Ivancich Dunin,
author of the multimedia exhibit, 50 Years of Research 1967-2017
Facilitated by Dr. Pegge Vissicaro, Cross-Cultural Dance Resources, Executive Director
Sunday, November 25, 2018, 4:00-6:00 pm
Human Nature Dance Studio, 4 West Phoenix Ave., Flagstaff 86001
For more information call 602-790-0363 or email pegge.vissicaro@nau.edu
Donations Welcome
This event is part of the Cross-Cultural Dance Resources (CCDR) Soup Seminar Series, which began in 1983 at the non-profit CCDR facility, established in 1981 near the NAU campus. The Soup Seminar focused on a particular topic of interest and involved mutual discussion, lectures, performances, film screenings, and other activities. The ritual of eating soup together was central to the idea of building community, a core value of CCDR. This presentation by Professor Dunin continues that tradition. We invite participants to "bring your own soup" and enjoy conversation, music, dance, and community engagement.
​
Society for Ethnomusicology Conference, "Revealing an Interconnected World: Cross-Cultural Dance Resources Collections and the Music-Dance Research Legacy of Gertrude Prokosch Kurath"
​
Dr. Adair Landborn and Dr. Pegge Vissicaro will present at the 2018 SEM conference in Albuquerque, New Mexico as part of a trilogy that focuses on Dr. Joann Kealiinohomoku's work developing Cross-Cultural Dance Resources and its Collections. Dr. Kealiinohomoku, founder of CCDR, wrote in the organization's 1991 Winter Newsletter, that "dance and music are powerful means for achieving appreciation and understanding." She explained how music and dance, more than any other cultural forms, symbolize an interrelated, interconnected world. The scholarship of her mentor, Gertrude Kurath--the doyen of dance ethnology--exemplified an integrated approach to the study of the music-dance dyad. Kurath's interest in the dynamic interplay of music and dance emerged from personal experiences in her family life, fieldwork, and education; Kurath's views significantly influenced Kealiinohomoku's own vision and inspired her to create the CCDR Collections. Numerous examples of the music-dance relationship enliven and enhance the CCDR Collections, located on Arizona State University's Tempe campus since 2008. Cultural diversity and interdisciplinarity are characteristic of both CCDR Collections' holdings and Kurath's legacy of innovative research. The CCDR Collections facilitate in-depth investigations of music and dance in the context of the humanities; access to many distinct knowledge domains allows researchers to consider an expanded world of possibilities. The wealth of resources available throughout the CCDR Collections provides students, educators, artists, and scholars with opportunities to explore an expansive range of human expressive cultures. Conference presenters share rare slides, videos, and correspondence from the Kurath Collection to outline Kurath's insightful perspectives and discoveries about the importance of music-dance connectivity in understanding human culture. Engagement with these unique primary source materials invites international researchers to discover untapped information and create new applications that impact the field.
Cross-Cultural Dance Resources Moving Legacies: Continuity, Innovation, and the Integrated Scholarship of Gertrude Kurath
​
​The inaugural meeting of the Dance Studies Association, which combines two organizations—the Congress on Research in Dance and Society for Dance History Scholars—will take place at The Ohio State University in Columbus on October 19-22, 2017. CCDR will be facilitating a historic roundtable that brings together five distinguished contributors to discuss the influential legacy of Gertrude Kurath. Her groundbreaking 1960 article, "Panorama of Dance Ethnology," provides a theoretical foundation for the cultural study of dance and the dynamic processes by which dance culture evolves. Characteristic of Kurath's work on dance cultural transmission was her ethnographic research documenting North American indigenous dance and music. Kurath's extensive publications disseminating this research worldwide, involvement in CORD, pivotal position as dance editor for the Society for Ethnomusicology journal, and consultancies at the University of California, Los Angeles continue to shape the field of dance studies. Presenters include: Elsie Ivancich Dunin—Professor Emerita at the University of California, Los Angeles and external dance research associate for Croatia's Institute of Ethnology and Folklore Research, Frank Ettawageshik—Little Traverse Bay Bands of Odawa Indians former Tribal Chairman and Executive Director of the United Tribes of Michigan, Ellen Kurath (Gertrude's daughter)—freelance structural engineer, Adair Landborn—Clinical Assistant Professor and Curator of the Cross-Cultural Dance Resources Collections at Arizona State University, and Pegge Vissicaro—Executive Director of Cross-Cultural Dance Resources, Inc. and Professor Emerita of Dance at Arizona State University.
Cross-Cultural Dance Resources Pre-Conference Event "Moving Legacies: Remembering Joann Keali'inohomoku"
Cross-Cultural Dance Resources (CCDR) Board of Directors invited the global dance community to the first of an annual series of pre-conferences that recognize "Moving Legacies" in dance scholarship. November 2, 2016 was the inaugural event, which honored the extraordinary life and work of pioneer dance anthropologist, Joann Keali`inohomoku, founder of CCDR, Inc., a non-profit organization that promotes holistic understanding and appreciation of the diversity and significance of dance in cultural contexts. CCDR, Inc. has a 35-year history of hosting events that offer intellectual stimulation and embodied experiences. It also developed and continues to maintain the CCDR Collections research library and archive for the benefit of interdisciplinary dance scholarship. From 1:00pm-5:00pm on this day, we came together at the Pomona College campus—a wide range of critical dance/music thinkers, performers, creators, artists, educators, colleagues, ethnochoreologists, ethnomusicologists, anthropologists, event producers, students, and cultural leaders—to share memories and broaden understanding about Joann's impact on the field through presentations and performances. Some of the topics covered were Joann's co-chairing with Allegra Fuller Snyder of the seminal 1972 CORD meeting in Tucson, Arizona during the Yaqui Pasqua rituals; her "Etic/Emic" lecture at the 2006 CORD conference co-sponsored by CCDR; and her ground-breaking article, "An Anthropologist looks at Ballet as a Form of Ethnic Dance." Documentation of the activities resulted in a tangible record of our celebration of Joann's legacy. ALL were welcome to attend the free event, which directly preceded the Congress on Research in Dance and Society for Dance History Scholars conference at Pomona College in Claremont, California. The CCDR Board of Directors greatly appreciated everyone's participation at this historic occasion honoring Dr. Keali`inohomoku's contributions to the scholarly study of dance.
​
​