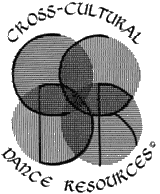 Established in 1981, Cross-Cultural Dance Resources, Inc.




celebrates its 42nd anniversary in 2023.
Cross-Cultural Dance Resources, Inc. is a 501(c)(3) non-profit organization, founded in 1981 and incorporated in the State of Arizona. The organization is dedicated to research about dance and supports many types of endeavors and activities within the dance field. Policies are established by a Board of Directors, confirmed by the participation of its membership, the public, and various funding agencies. Support has been provided through membership dues, donations, fundraising activities, Arizona State University, and in the past by Arizona Commission on the Arts, National Endowment for the Arts, and Flagstaff Arts and Science Commission. CCDR welcomes those who are interested in volunteering their time and skills. Contributions to CCDR as a non-profit organization are tax-deductible.
Board of Directors




Pegge Vissicaro, President & Secretary




Elsie Dunin, Vice President




GinaMarie Byars, Treasurer




Jessica Yu




Adair Landborn