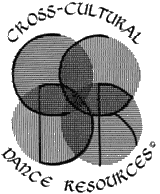 Established in 1981, Cross-Cultural Dance Resources, Inc.




celebrates its 42nd anniversary in 2023.
Upcoming Events
Cross-Cultural Dance Resources Pre-Conference Event "Moving Legacies: Remembering Joann Keali`inohomoku"
Cross-Cultural Dance Resources (CCDR) Board of Directors is pleased to invite the global dance community to the first of an annual series of pre-conferences that recognize "Moving Legacies" in dance scholarship. November 2, 2016 is the inaugural event, which honors the extraordinary life and work of pioneer dance anthropologist, Joann Keali`inohomoku, founder of CCDR, Inc., a non-profit organization that promotes holistic understanding and appreciation of the diversity and significance of dance in cultural contexts. CCDR, Inc. has a 35-year history of hosting events that offer intellectual stimulation and embodied experiences. It also developed and continues to maintain the CCDR Collections research library and archive for the benefit of interdisciplinary dance scholarship. From 1:00pm-5:00pm on this day, we will come together at the Pomona College campus—a wide range of critical dance/music thinkers, performers, creators, artists, educators, colleagues, ethnochoreologists, ethnomusicologists, anthropologists, event producers, students, and cultural leaders—to share memories and broaden understanding about Joann's impact on the field through presentations and performances. Some of the topics to be covered include Joann's co-chairing with Allegra Fuller Snyder of the seminal 1972 CORD meeting in Tucson, Arizona during the Yaqui Pasqua rituals; her "Etic/Emic" lecture at the 2006 CORD conference co-sponsored by CCDR; and her ground-breaking article, "An Anthropologist looks at Ballet as a Form of Ethnic Dance." Documentation of the activities will result in a tangible record of our celebration of Joann's legacy. ALL are welcome to attend the free event, which directly precedes the Congress on Research in Dance and Society for Dance History Scholars conference at Pomona College in Claremont, California. Please RSVP via email to Pegge Vissicaro (pegge@asu.edu) no later than August 1, 2016. If you would like to add a tribute, perform, and/or share a brief anecdote, let Pegge know with the RSVP. The CCDR Board of Directors looks forward to your participation at this historic occasion as we honor Dr. Keali`inohomoku's contributions to the scholarly study of dance.