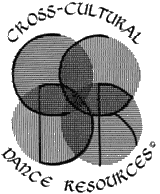 Established in 1981, Cross-Cultural Dance Resources, Inc.




celebrates its 42nd anniversary in 2023.
PROCEEDINGS OF CCDR's SYMPOSIUM: APPLYING DANCE ETHNOLOGY AND DANCE RESEARCH IN THE 21st CENTURY held 6-8 June 2003 in Flagstaff, Arizona.
The volume sells for $20 plus $5 postage and handling in U.S., and $10 overseas
Checks in U.S. currency only, made out to CCDR
Mailing address for book order:
CCDR Symposium Proceedings
Cross-Cultural Dance Resources
P.O. Box 789
Phoenix, AZ 85001
​
Compiled and edited by Elsie Ivancich Dunin with editorial assistance by Miriam S. Phillips, 110 pages; all photos and graphics are in black/white; spiral-bound; vinyl cover. Photos taken during the Symposium by Rose Eichenbaum
TABLE OF CONTENTS
Preface and acknowledgements
Program schedule
Profiles of Symposium speakers
Opening remarks by JOANN W. KEALIINOHOMOKU
ALLEGRA FULLER SNYDER
Keynote address: Foundations, evolutions and changes in the field of Dance Ethnology
OCTAVIANA TRUJILLO
Presentation of a rare film: Yaqui Easter in old Pascua
ELSIE IVANCICH DUNIN
Uncovering new understandings about Yaqui Easter
Panel: Funding your passion: making arts and money allies
EDY GREENBLATT
Dancers can do anything
GINAMARIE WRIGHT
Running a profitable non-profit
CHERYL BROCK
Business and organizational management
ROSE EICHENBAUM
Masters of movement
JOANN W. KEALIINOHOMOKU
The Eleanor King legacy rediscovered, with a showing of a film about José Limon
with clips of Limón and Eleanor King, courtesy of Ann Vachon
VICKY J. RISNER
Dance ethnology as the underpinning for documenting the legacies of modern dance giants, Martha Graham and Katherine Dunham
Panel: Innovative applications of Dance Ethnology
COLIN QUIGLEY (panel moderator)
DEBORAH HEIFETZ-YAHAV
Applications of dance ethnology to ethnographic research on peacekeeping
MARGY MCCLAIN
Dance as marginalized knowledge: implications for practice in education
ROO LESTER
Application of dance ethnology in the recreational folk dance milieu
MIRIAM S. PHILLIPS
A surviving dance ethnologist makes it to the 21st century: applying dance ethnology to community and popular culture
PEGGE VISSICARO
Online dance education and research: theory and applications
DEIDRE SKLAR
Preparing a website for Dancing with the Virgin
ADRIANA CRUZ MANJARREZ
Dance and music in the maintenance of ethnic identity among immigrant Zapotecs from Villa Hidalgo, Yalálag in Los Angeles
ELIZABETH ALDRICH
The Dance Heritage Coalition and a future for dance documentation and preservation
Summarizing statements by ALLEGRA FULLER SNYDER
Final thoughts by JOANN W. KEALIINOHOMOKU
****************** ******************** **************
Cross-Cultural Dance Resources, Inc. has been instrumental in bringing vital dance energies and opportunities to Flagstaff, Arizona for interactions among dancers and other interested persons. Unique, the performances we present are packaged to include symposia, workshops, lectures or other means to provide holistic experiences beyond simple entertainment. CCDR also provides announcements of dance happenings and opportunities from around the world.
CCDR acknowledges UNESCO's annual World Dance Day - Click on this line for article
Most recent CCDR events in the 21st century:
6-8 June 2003, CCDR in cooperation with the Department of Applied Indigenous Studies at Northern Arizona University (NAU) sponsored a symposium:
APPLYING DANCE ETHNOLOGY AND DANCE RESEARCH
IN THE 21st CENTURY
This Symposium was designed to provide a venue for exploring innovative applications, learning about new business techniques, and sharing new concepts and ideas. Presenters included internationally recognized pioneers in their fields:
Allegra Fuller Snyder, Elsie Dunin, Joann Kealiinohomoku, Octaviana Trujillo, Vicky Risner, Elizabeth Aldrich, Colin Quigley, Edy Greenblatt, GinaMarie Wright, Rose Eichenbaum, Pegge Vissicaro, Adriana Cruz Manjarrez, Roo Lester, Miriam Phillips, Deborah Heifetz-Yahav, Deidre Sklar.
As a record of the Symposium, a Proceedings is available. See above for order information.
Sunday, 7 April 2002, Cross-Cultural Dance Resources presented
SINGING AND DANCING ALONG THE SILK ROAD IN CENTRAL ASIA
A two-part event: Symposium and Performance
Tohfaxzan Pinkasova and Travis Jarrell
CCDR is aware of the interest in Central Asia that people feel at this time, because Central Asia has assumed a position of importance to Americans as never before. CCDR only rarely produces a humanities/arts program, but the opportunity to do so had been made available to us, and we were excited to provide this timely and wonderful event.
An afternoon Symposium provided "The Context for Singing and Dancing by Women in Uzbekistan." The beloved Uzbekistan "Wedding Singer" Tohfaxzan Pinkasova, with dancer Travis Jarrell, and musician Ilias Rakhimov, explained and demonstrated the ancient Uzbekistan performance art forms, and the social and gender roles they play in Uzbekistan society. This uncovered the historic background that allowed Jewish women to perform in public whereas Muslim women were forbidden to do so. The role of a "Wedding Singer" is a highly respected profession with a tradition that goes back for hundreds of years. Discussants were anthropologist, Joann Kealiinohomoku, and NAU Senior Instructor of Russian Language and Culture, Anna Slobodchikoff.

The two-hour evening Performance of song and dance was exciting and exquisite. It was beguilingly exotic to western eyes and ears. The program featured Pinkasova in song and Travis in dance, gorgeously costumed and accompanied by Ilias on the Dutar, a strummed two stringed lute.
These two women, Pinkasova and Travis were featured at the Silk Road Festival summer 2003 in Washington D.C. at the Smithsonian Institution in conjunction with the Silk Road project directed by Yo Yo Ma, world famous cellist.
___________________________________________________________________________________________________
​
Past events:
1991: Zambra Alhambra - performance of East Indian, Arabic, and Flamenco dance

1991: West Africanfolkloric Company with C.K. Ganyo from Ghana

1991: Baul singers/dancers Sanatan Das and Sons

1992, 1993: Chaksam-pa, Tibetan Dance and Opera Company

1992: The Royal Musicians of Nepal

1992: Africa Oyé! 50 singers, dancers and musicians from 9 regions of Africa on world-wide tour

1992: Prema Dasara and the "Twenty-One Praises of Tara"

1992: Symposium and Workshop entitled "500 years of Sephardic Voices, 1992" followed by a performance of Judith Brin Ingber and her group "Voices of Sepharad"

1993: Sophia Bilides Greek Music Ensemble

1993: Symposium "The Natural and Cultural History of Puppets and Marionettes," background for the Carter Family Marionettes' performance of the Northwest Coast Indians' "Q'we-ti, tales of the Makah"

1994: Symposium: "Dance in culture - Culture in dance: Uzbekistan and the Middle East," before a dance concert by Travis Jarrell

1994: Benefit for CCDR: Mariachi Diablo del Sol directed by J. Richard Haefer, and the Marimba Maderas de Comitan, directed by Ted Solis, both ensembles from Arizona State University. Presented workshops, demonstrations and concert followed by audience dancing

1994: Slide lecture by Miranda Eberle Shaw on tantric danced rituals prior to Nepalese Buddhist Dances performed by Projwal Ratna Vajracharya

1995: An illustrated lecture-demonstration by Beverly Mendheim on the Music and Dance Cultures of Madagascar, a performance of Tariko, Malagasy music/dance ensemble

1995: Tibet Week included five humanities presentations preceding the first complete Tibetan Opera given in the West by Chaksam-Pa, the Tibetan Dance and Opera Company. Humanities events included: "Tibetan History and World View," a paper written by Thubten Jigme Norbu, the elder brother of the Dali Lama. "Tibetan Folk Opera, A Cultural Context," a lecture by anthropologist Marcia Calkowski. "Symbols and Metaphors" in Tibetan opera, a symposium with panelists Vasant Merchant, Marcia Calkowski, and Tashi Dhondup. "The Heroine and the Goddess," a lecture by Prema Dasara. "Navajo and Tibetan Sacred Wisdom," an illustrated lecture by Peter Gold based on his book with the same name

1996: "Glimpsing the Floating of World Kyoto and Osaka," Humanities and performance package included lecature demonstration on Geisha costumes, demonstration and exhibit of Ikebana (flower arrangement), and participant-observation of Chanoyu (tea ceremony), concert of dance and music by Hana No Kai, classical Japanese dance group from Tokyo

1996: Lecture-demonstration and workshop by Adair Landborn on "Flamenco Dance and Bullfighting: The Kinesthetic Culture of Spain"

1997: Celebrate Flagstaff Heritage Festival click on this line for event description

1999: "Winter Stories" a centennial event for Northern Arizona University's "Spectrum" series. Music, dance and oral traditions presented by Delores Coochyamptewa (Hopi) and the Jones Benally family (Navajo) with Joann Kealiinohomoku as interlocutor.

1999: "Bridging cultures with music and dance: a pre-concert interactive collaboration of the Flagstaff Symphony with the performance group "Voices of Native America," conceived and convened by CCDR.

1999: Ramudi Sapera and Party from Rajastan, India. Package of Humanities and Performance events. "Gypsy Roots and Branches" moderated by Joann W. Kealiinohomoku with film documentary Latcho Drom, master dance class with Ramudi Sapera, exhibit of East Indian artifacts, Ramudi Sapera and Party performance
In addition, workshops and classes include Barbara Mettler, founder of Tucson's Creative Dance Center; Pamela Kihm, Feldenkrais practitioner; Genny and Peter Raynolds, "Jogging in the right side of the brain;" Vernon Masayesva, Hopi tribal chairman, on Hopi history; Morris dancing; Japanese Seitai, "Small Dance;" contact improvisation; Lambada; informal showcases of dance performances organized by Marti Johnston, and more.
__________________________________________________________________________________________________
CCDR co-sponsored events:
•1998: CCDR and the Dance Department of Arizona State University (Tempe, Arizona) in conjunction with Northern Arizona University's "Tribute to William Grant Still" presented a four-day dance workshop entitled "Africa and African Tradition in the Diaspora"
•1999: "Motherfest," an event at Wheeler Park in Flagstaff with a presentation by the organization,Tara Dhatu
•DANCELEBRATION years 1999, 2000, 2001, 2002, 2003 (and future years anticipated). Produced annually by Canyon Movement Company in cooperation with CCDR, the summer dance festival has featured daily classes by Nina Watt, Associate Artistic Director of the José Limón Company in New York, and performance in the concluding gala concert. Each year one evening has been devoted to discussions on 20th century dance history and dance aesthetics, led by Joann Kealiinohomoku, and joined by Nina Watt. In 2002 Kealiinohomoku and Watt introduced a film with a working title, Limón: a life beyond words, co-produced by Ann Vachon and Jeff Levy-Hinte.
•2000: Master Dance Class series. Presented by Coconino Community College Fine Arts, with CCC Dance Club and Cross-Cultural Dance Resources
•2000: African Dance and Drumming event. A family evening included in NAU's Spectrum series
•2000: Hispanic Arts and Culture events sponsored by NAU's Master of Liberal Studies Program with CCDR
•2004: International Dance Day, April 29 – dance films shown continuously at Flagstaff Public Library. The films include two hours of PBS series "Dancing" for which senior advisor was CCDR's Kealiinohomoku. Co-sponsored by Canyon Dance Academy/Canyon Movement Company; CCDR; Coconino Community College; Flagstaff Arts & Leadership Academy; NAU Preparatory Academy; All That Dance; Friends of Traditional Music and others.