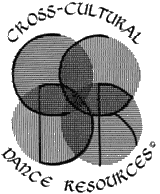 Established in 1981, Cross-Cultural Dance Resources, Inc.




celebrates its 42nd anniversary in 2023.
Gertrude Kurath Collection
Finding Aid (Click the link to open document)
Gertrude Prokosch Kurath was a dancer at heart. She was also an accomplished scholar, ethnomusicologist, and dance ethnologist. Gertrude studied primarily with Native Americans, learning about their dance and customs. She published hundreds of articles in journals such as: Journal of American Folklore, Folklore Americas, El Palacio, and many many more. Gertrude was a major part of organizations such as The Society for Ethnomusicology and Congress on Research in Dance. She also served her community in Ann Arbor, Michigan, where she wrote for the Ann Arbor News, and founded the Dance Research Center. Gertrude Kurath was a great woman of her time.
Key Publications
"Mexican Moriscas: a problem in dance acculturation." Journal of American Folklore 62(244): 87–106. 1949.

"Dance relatives of mid-Europe and middle America: a venture in comparative choreology." Journal of American Folklore 69(273):286–298. (Slavic Folklore: a symposium). 1956.

"Panorama of dance ethnology." Current anthropology 1(3):233–254. 1960.

"Iroquois music and dance: ceremonial arts of two Seneca longhouses." Smithsonan Institution Bureau of American Ethnology Bulletin 187. 1964.

Half a century of dance research. Flagstaff, Arizona: Cross-Cultural Dance Resources. 1986.

with Antonio Garcia. Music and dance of the Tewa Pueblos. Santa Fe, New Mexico: Museum of New Mexico Press. 1970.

with Jane Ettawageshik, Fred Ettawageshik, Michael D. McNally, and Frank Ettawageshik. The art of tradition: sacred music, dance, and myth of Michigan's Anishinaabe, 1946–1955. East Lansing, Michigan: Michigan State University Press. 2009.

with June Helm and Nancy Oestreich Lurie. The Dogrib Hand Game. Ottawa: Queen's Printer. 1966.
Collections
The Kurath Collection at Cross-Cultural Dance Resources includes:
Manuscripts

Photographs

Books and Articles

Films and Sound Tapes from her research

Correspondence
Gertrude knew many people. These people were proud to call Gertrude their friend, mentor, colleague, or mother. To her friends and audience she was known as "Tula." Gertrude was given this name by her Native American friends, who recognized her spirit. Among the many people with whom Kurath corresponded were:
Edward Dozier

Antonio Garcia

Frank Gillis

Joann Keali'inohomoku

Eleanor King

Nadia Chilkovsky Nahumck

Ted Shawn

Sol Tax