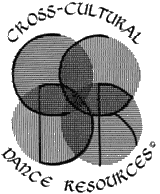 Established in 1981, Cross-Cultural Dance Resources, Inc.




celebrates its 42nd anniversary in 2023.
No finding aid available at this time. Contact curator for assistance.
​
Elsie Ivancich Dunin (born 1935 in Chicago, Illinois) is a dance ethnologist (ethnochoreologist), choreographer, professor, and author specializing with dance studies in Croatia, Macedonia, and of Roms (Gypsies) in Macedonia. Her research has focused on Croatian diaspora communities and associated sword dances in both Old and New World contexts. She is Professor Emerita of dance ethnology from the University of California at Los Angeles (UCLA) and is currently an external dance research associate with the Institute of Ethnology and Folklore Research in Zagreb, Croatia.
​
SELECTED PUBLICATIONS
· 1979. South Slavic dance in California: a compendium for years 1924-1977. Palo Alto, California: Ragusan Press.
· 1987. "Linđo in the context of village life in the Dubrovnik area of Yugoslavia." Dance research annual 16:1-4. New York: Congress on Research in Dance
· 1988. "'Salonsko Kolo' as cultural identity in a Chilean Yugoslav community(1917-1986)." Narodna umjetnost:109-122. Zagreb, Yugoslavia: Institute of Folklore Research.
· 1995. Dances in Macedonia: performance genre-Tanec. Skopje, Macedonia: Tanec Ensemble. (In Macedonian and English; Labanotation.)
· 1995. (Editor), Dance research: published or publicly presented by members of the Study Group on Ethnochoreology. Zagreb, Croatia: Institute of Ethnology and Folklore Research. (Third volume.)
· 1998. St. George's Day—Coming of summer 1967-1997. Skopje, Republic of Macedonia: Association of "Romano Ilo" (Monograph and catalog in three languages: English, Macedonian and Romani.)
· 2006. "Romani dance event in Skopje, Macedonia: research strategies, cultural identities, and technologies." Dancing from past to present: nation, culture, identities:175-198. Madison, Wisconsin: University of Wisconsin Press.
· 2006. Korčulanska Moreška. Korčula: Turistička Zajednica Grada Korčule.
· 2007. "Swords of dances on Korčula island: a living history." Godišnjak Grada Korčule 12:138-148. Korčula: Gradski Muzej.
· 2009. "Organized dance group repertoire and unrehearsed dancing in Macedonia (1988, 1989)." EVIA Digital Archive: ethnographic video for instruction & analysis. Bloomington, Indiana: EVIA Digital Archive Project. Online.
· 2010. (Co-author: Candi Harrington deAlaiza), DdA reference format for dance. Tempe: Cross-Cultural Dance Resources. (Revised 1988 edition.)
· 2011. "In search of continuity: tombstones and dance in the Dubrovnik area." Imaging dance: visual representations of dancers and dancing:53-76. Hildesheim, Germany: Georg Olms Verlag AG
· 2011. (Editor), ICTM International Council for Traditional Music Study Group on Ethnochoreology Proceedings 1988–2008 (DVD). [—: "Heritage Culture" Educational Electronic Library; ICTM Study Group on Ethnochoreology.
· 2013. "After the ashes of war: continuity and change in the costume, music, and dance of a Croatian village." Resplendent dress from southeastern Europe: a history in layers. Fowler Museum textile series 2:194–205.Los Angeles: Fowler Museum at UCLA.
· 2013. Prošlost u sadašnjosti: svadbe u Dubrovačkom Primorju. Past into the present: weddings of the Dubrovačko Primorje. Dubrovnik: Matica Hrvatska-ogranak Dubrovnik.
· 2014. "Emergence of ethnochoreology internationally: the Janković sisters, Maud Karpeles, and Gertrude Kurath." Musicology 17: 197-217. Beograd: Institute of Musicology of the Serbian Academy of Sciences and Arts.
· 2015. (Editor). Dance, Narrative, Heritage: 28th symposium of the International Council for Traditional Music (ICTM) Study Group on Ethnochoreology. Zagreb: Institute of Ethnology and Folklore Research: ICTM Study Group on Ethnochoreology.